About Us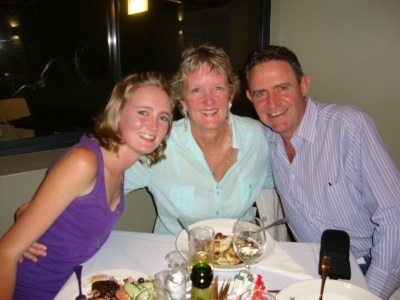 This is just to tell you a little about me...
I am 56 years old, so have a wealth of life experience beneath my belt! I have always worked with people, and am passionate about the work I do. I believe in the essential goodness of the human spirit and believe that if we are encouraged during the challenging times of our lives, so that we grow and don't become embittered and negative, then we there is no stopping what we can do. We
are
our thoughts, so if we can control our thoughts, we can control our behaviour and destiny.
I live in Hilton, KZN, South Africa with my husband Mike. Our daughter Cathleen is married and lives in Cape Town with her husband. She has completed her studies at the University of Cape Town , and is now empoyed by St James software in Cape Town as an Engineer.
I have lived overseas in the USA. When I was 14 years old my father was transferred to Washington DC. I completed High school there, and 1 year at American University before returning to Stellenbosch University in South Africa. I then taught at St. Anne's Diocesan College, followed by Girls Collegiate in PMB (now The Wykeham Collegiate) for a total of 7 years.
I trained as a Physical Education Teacher at Stellensbosch University in the Cape, South Africa. I chose this university because it was the best place to train for P.E. Teachers, and also because of the high standard of club hockey. I represented the University team for 4 years. I know about pushing myself to the limits as I was a provincial hockey player, and then I learnt about pushing others to their limits as I was a provincial hockey coach as well. This taught me about being a team player, about pushing your body until it couldn't anymore, about wonderful friendships. And made me feel satisfied with achieving the best that I could be...believing in myself to reach excellence.
I taught in High Schools for nearly 8 years and in my teaching I learnt how important it is to build people, not break them down. They astonished themselves with their own achievements, because they had someone else who believed they could do it. That is exactly what I do in Life coaching!..... I have had many years of preparation to get to this point in my life of being a life coach. I get so excited at the achievements of others, of encouraging them to get there.
I married Mike, and had our 2 girls, ran a swim school, a hockey coaching company, a family auctioneering business, and was a Real Estate Agent , so I had experience in the business world,before finding my passion of Life Coaching.
My most challenging life experience was the loss of our younger daughter when she was 9 years old. It has taught me so much....I thought I knew a thing or two before that happend, and when I think back, and look a the awesome growth that has happened since then, it is as if I knew nothing then. I believe this, above all else, qualifies me to be a superb coach for you.
I am involved in a support group for Mums who have lost children. I have done the Hospice Bereavement Course to enable me to facilitate this group. This group has also taught me so much, specifically how to deal with vulnerable people and how to love them though the trauma.
I am a full time Life Coach, and loving every minute of it!
Academic Qualifications
I have a BA degree and a HDE( Higher Diploma in Education), a post grad diploma in Sports Psychology. I have done my training through New Insights Africa, and am a certified Life Coach, a certified Advanced Coach and a VIP Coach. I also have a Corporate Coaching qualification through the Faculty of Commerce, University of Cape Town.
If you would like to go to the website for the International Regulator of Coaching- click on the following link:
https://www.icr-coachregister.com/coaches/2116/C.%20(Cherri)-Forsyth/